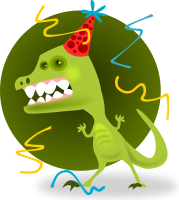 Jak již všichni jistě dobře víte, nové openSUSE se nezadržitelně blíží. Už jen cca týden a bude to tu. Lidé budou zběsile stahovat a aktualizovat a zkoušet,
jak to naše osmiměsíční snažení dopadlo. Všichni vývojáři budou hrdí na výsledky své práce než jim začnou chodit maily z bugzilly informující je o všem, co přehlédli.
13.1 tu s námi bude dlouho, byla totiž vybrána jako release pro Evergreen. Tudíž nezemře po 18ti měsících, ale bude žít dál. Tím víc je tento release významný. A když se blíží takováto významná událost, je třeba to patřičně oslavit. Ano, hádáte správně, tento post je o openSUSE 13.1 release party.
Jako obvykle se release party uskuteční v prostorách pražské pobočky SUSE. Kdo tu ještě nebyl, SUSE se nachází v Praze Libni, v ulici Lihovarská. Nejblíž je k nám zastávka metra Českomoravská nebo zastávka tramvaje číslo 8 Ocelářská. Kdy že to bude? Plán je pátek 29. listopadu někdy večer. Plán je cca od pěti/šesti (máte-li nějaké preference, podělte se). Bývá to takový dobrý kompromis aby se k nám dostali pracující, ale zároveň to nebylo moc pozdě.
Na co se můžete těšit? Na tom se zatím pracuje, budou nějaké přednášky týkající se nového openSUSE a snad do té doby přijdou i DVD. Konkrétnější program bude později, až něco dáme dohromady
Prozatím si jen zapište do kalendáře kdy a kam dorazit
PS: Pokud se už nemůžete dočkat a chcete se naučit jak se na správě balíčků pro openSUSE podílet, v úterý před release party budeme na SUT povídat o balíkaření