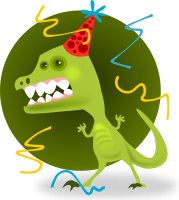 Everybody probably already knows, that openSUSE 12.3 is going to be released this Wednesday. I'm currently in SUSE offices in Nuremberg, helping to polish last bits and pieces for the upcoming release. But more importantly, as every release, we need to celebrate it! And this time, due to the lucky circumstances, I'll be here for Nuremberg release party!
Nuremberg release party will take place the same day as release at Artefakt, in Nuremberg's city centre from 19:00 (local time, of course). It's an open event so everybody is welcomed.
You can meet plenty of fellow Geekos there and there will be some food and also openSUSE beer available (some charges may apply). Most of the openSUSE Team at SUSE (former Boosters and Jos) will be there and we hope to meet every openSUSE enthusiastic, supporter or user from Nuremberg.
There will be demo computer running 12.3 and hopefully even public Google Hangout for people who wants to join us remotely – follow +openSUSE G+ page to see it if we will manage it 😉
So see you in great numbers on Wednesday in Artefakt!
PS: If you expected announcement for Prague release party from me, don't worry, I haven't forgot about it, we are planning it, expect announcement soon and party in few weeks 😉